Logistics is the management of smooth transportation of goods from its native point to destination. Apart from transportation, the logistics sector in India also comprises of packaging, storing, and handling. It contributes around 14.4% in the Indian economy and below are some crucial initiatives taken by government in the recent years that are changing course of Indian logistics. Let's see them one by one: –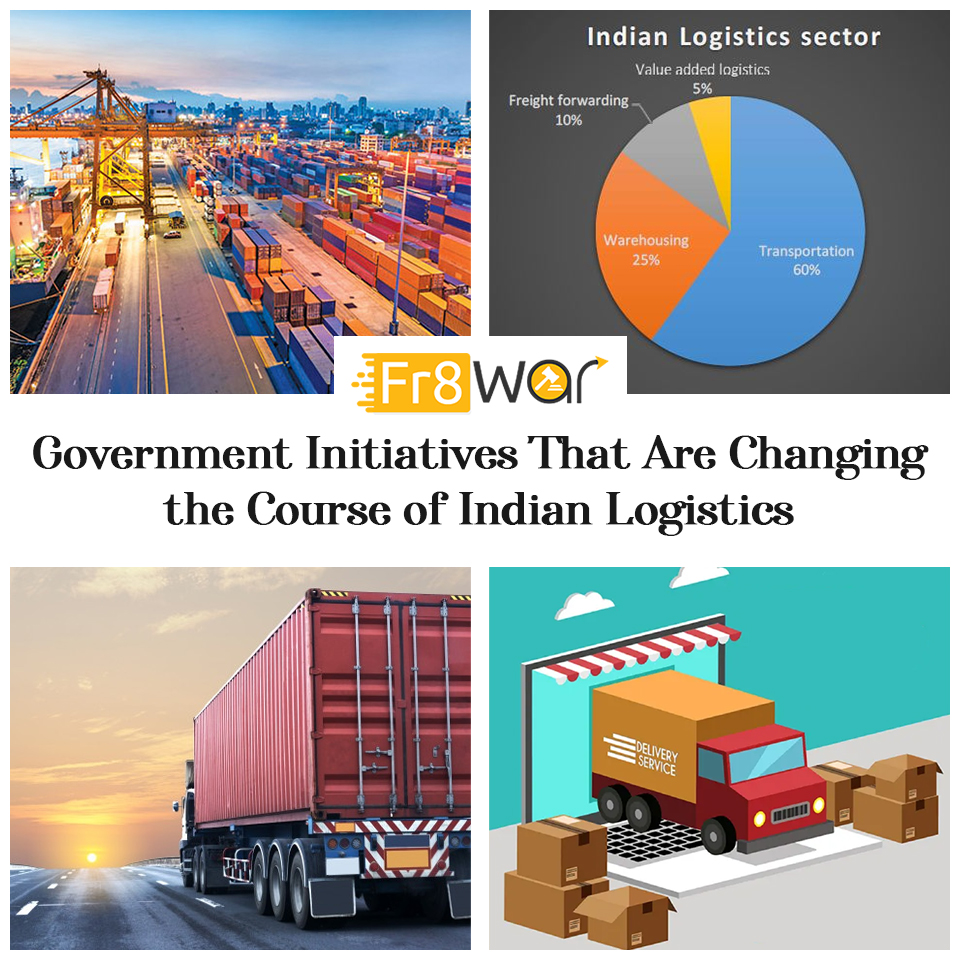 Development of Multi-Modal Logistics Parks in India
Multi-Modal Logistics Park (MMLP) is a freight-handling facility and to be constructed in a minimum area of 100 acres providing access to different modes of transportation. MMLP also provides storage solutions like mechanized warehouses and cold storage with other services like customs clearance and quarantine zones.
The Indian transport ministry is currently planning a network of 35 MMLPs around different Indian states. These parks will help reduce freight & warehouse costs, and vehicle congestion.
Book freight trucks online with Fr8War.

GST Effects on Logistics
One of the significant consequences of Goods and Services Tax (GST) on Indian logistics sector is the integration of multiple layers of taxes into a single one. Due to GST's implementation, there is a substantial reduction in waiting time and paperwork. It has improved the utilization of vehicles, reduced the cost, and eliminated the need for various warehouse stations across Indian states.
As per the IBEF study, the logistics sector is expected to reach $500 billion by 2025.
Parivahan Portal
Earlier, different states have different policies regarding the processing of basic documents like Registration Certificate (RC) and Driving License (DL). The Government wanted to standardize processes across PAN-India to make sure that correct data can easily be shared between systems irrespective of their location. Hence, the ministry launched two software – SARATHI for driving license processes and VAHAN for vehicle registration. SARATHI offers services like Common Service Centre (CSC), E-Payment Gateway & State Service Delivery Gateway (SSDG) and VAHAN offers services like fitness, permit taxes, and registration.
All these services are offered in one mobile app called mParivahan which makes it easy to get information regarding RC, DL, etc. There is also an SMS alert service to constantly notify the user.
Introduction of E-Way Bill
Basically, E-way bill is an electronic document, generated from the E-way site, that is required to be carried by a person carrying a truckload worth more than Rs. 50,000. The E-way bill is issued by registered suppliers transferring goods from one state to another. Its validity mainly depends upon the shipment distance.
E-Way bill helps in the elimination of state boundary check posts and physical paperwork which facilitate vehicles' movement across the states and reduce their overall turnaround time. Over the last few years, it is proved to be one of the best initiatives taken by Indian Government.

Are you a consignor looking for hassle-free delivery of your load? Are you tired of calling different transporters to know the best price? Then fret not, Fr8War is here. Fr8War acts as a digital bidding platform between consignors and transporters. The consignor needs to enter cargo details along with the ceiling price, and various transporters will bid for it from the other end. Transporters get to compete for the load, and consignors instantly get the best delivery price. With Fr8War, the process is exceptionally straightforward, POST. BID. RELAX. Adopt freight revolution, and download the Fr8War app now!!