Cold Chain Logistics is a special kind of Logistics that deals with the storage, transport, and preservation of goods to be maintained at a specific temperature or in a specific temperature range.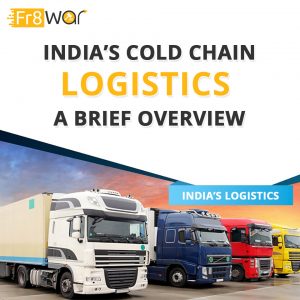 Book freight trucks online with Fr8War. 
Over the years, this sector has evolved to transport large quantities of food products and medical goods such as: –
Meat & Seafood
Dairy & Poultry
Ice-Creams
Vaccines
Healthcare Products
Volatile Chemicals
NOTE: -Cold Chain Differs from the Regular Supply Chain in terms of Cargo Sensitivity, Packaging, and Logistics Hardware. 
Today let's see how India's Cold Chain Supply Logistics has improved over the years, and what are the areas it is currently contributing majorly. India is an agricultural economy, and as per the statistics, 58% of the rural households are dependent on agriculture for their livelihood. India's cold chain is still in the early development stages, and it is crucial to protect the quality of the above-mentioned products while on the roads or water. Our cold-chain infrastructure is inadequate as of now, which poses a problem while exporting Indian Food products to other countries. The European Union (EU) has rejected the most number consignments from India as compared to any other country. No doubt, India has a huge export potential but lags behind due to a lack of infrastructure. 36% of the cold storage in India has a capacity below 1000 MT, which means there is a lack of proper and inadequate food storage too. However, the Indian Government is providing various subsidy schemes to private firms in the need of cold supply chains. 
The states of West Bengal, Bihar, & Uttar Pradesh comprise of 61 % of the cold storage capacity of India. Storage units in Gujarat and Maharashtra are specially designed in such a way to accommodate dairy as well as meat products. Most of the cold storage market in India is unorganized, but the government is taking crucial steps to make it organized. 
Here are some of the emerging trends in the Indian Cold Chain Industry: –
Shifting from end to end cold chain.
More sophisticated machinery and equipment.
Energy-efficient technologies.
Introduction of multi-purpose cold storage. 
Ripening facilities for Fruits & Vegetables.
This was the overview of cold chain logistics in India. If you are a consignor and tired of calling different transporters for the delivery of your load, then download Fr8War App. This app acts as a digital bidding platform between consignors and transporters. 
The consignor needs to enter various cargo details along with the ceiling price on the app, and various transporters will bid for it from. The consignor instantly gets the best delivery price, and transporter easily the new load contract.
So, adopt freight revolution, and download Fr8War app now.