There's no denying that the internet has turned the planet into a unified marketplace. Logistics is the backbone of the whole E-commerce sector. When E-commerce was taking its shape initially, slow delivery services were frustrating for both customers and retailers. However, modern breakthroughs in AI technologies and the emergence of online truck booking apps for cost-effective transportation have changed the landscape of Global E-commerce. It allows faster and economical passage of products, whether domestic or across the nations.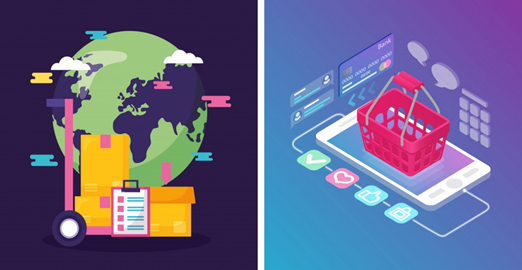 Undoubtedly, fast logistics services and E-commerce complement each other to function properly in a highly packed country like India. As of now, the Global E-commerce sector is growing at a rate of 30%, which is approx. five times of India's current GDP growth rate. This current online boom has many positive consequences for our country if we know how to capitalize it.
According to an independent KPMG report on online shopping behaviour, the principal reason why people shop online is that they can do it across the clock without any annoyance. Shopping online also empower individuals to compare prices in real-time, detect ongoing and forthcoming sales, and buy products for the best available rates. The modern customer expects the same-day delivery of their orders due to which new types of logistics have emerged. Anticipatory and Elastic Logistics have been catalysing supply chain movement across the nation. New niche markets are coming into the picture that was previously untapped. Millennial entrepreneurs, today, invest heavily in their e-commerce website and logistics services rather than renting for physical stores and offices.
E-commerce logistics primarily works in two directions: –
Forward Direction
Reverse Direction
Logistics in the forward direction means receiving an online order, arranging the payment, dispatching the order and delivering the item to the customer's home. In a country like India, more people prefer to do Cash on Delivery (COD), rather than paying from cards or digital wallets.

Reverse Logistics, on the other hand, means to manage the backward movement of goods from end customer to manufacturer. This might be due to customer returns or for recycling purposes. The speed of reverse logistics plays a vital role in maintaining the relationship between the customer and the e-commerce company.
Rick Blasgen is the President and CEO of the Council of Supply Chain Management Professionals (CSCMP), a US-based global body that conducts research and training in the logistics sector. According to him, the one major roadblock in India's supply chain logistics is its poor infrastructure. He further added, E-commerce can grow many folds here if there are well-built roads and better warehousing facilities in urban as well as rural areas. Better infrastructure regulates better good-flow, which ultimately help India to become a global leader in the supply chain.
Are you a consignor looking for hassle-free delivery of your load? Are you tired of calling different transporters to know the best price? Then fret not, Fr8War is here. Fr8War acts as a digital bidding platform between consignors and transporters. The consignor needs to enter cargo details along with the ceiling price, and various transporters will bid for it from the other end. Transporters get to compete for the load, and consignors instantly get the best delivery price. With Fr8War, the process is exceptionally straightforward, POST. BID. RELAX. Adopt freight revolution, and download Fr8War app now!!