INTRODUCTION
Our Finance Minister Nirmala Sitharaman presented Union Budget 2020 on February 1, 2020. One of the highlights of Budget 2020 was 'National Logistics Policy', that was primarily announced to clarify the roles of Central, State & Key regulators. While presenting the policy, she affirmed that policy will generate employment and increase MSME's competition.
Moreover, she also highlighted the projects like SagarMala (for waterways of India), BharatMala (for construction of dense roadways network in India) & UDAN (the regional airport development scheme) that are initiated to facilitate the freight processes in India. The 'National Logistics Policy' will potentially lead to the creation of a single window for the e-logistics market. Currently, India's Logistics sector has a market cap-size of $160 Billion but being highly fragmented & intricate, the bar of growth hasn't reached its full potential.
It is estimated that in the next two years, this sector will worth around $215 Billion. Indian export growth rate can be improved by 5 to 8% by making certain developments in infrastructure and tech. areas. Moreover, the Indian Logistics Sector currently employs 22 million people and with time, the number is expected to grow many-folds in future.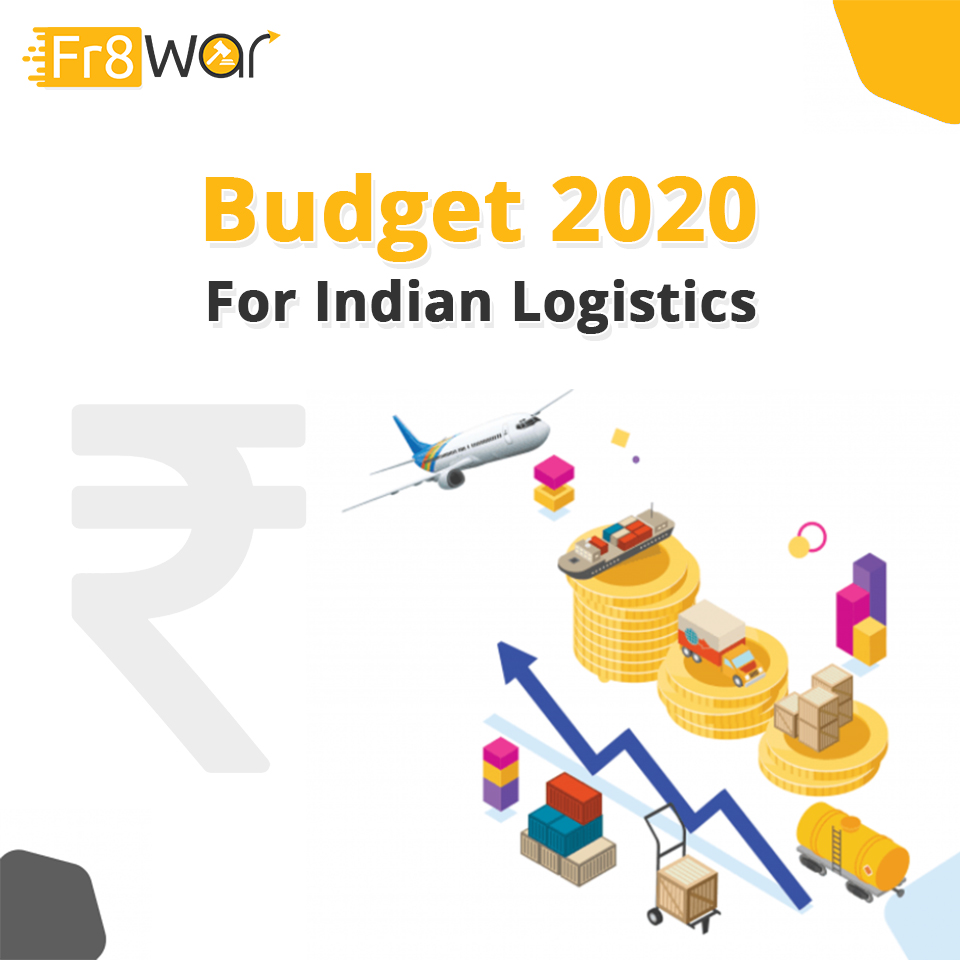 Along with budget insights, here are some things that we need to stay aware of the Indian Logistics Sector: –
LACK OF PROPER SKILLSET
Lack of proper manpower is one of the mainstream challenges of the logistics sector. The supply chain and digitisation are developing rapidly, and today it has become mandatory to have a skilled labour.
Therefore, there should be a policy regarding proper training for an efficient workforce.
TECHNICAL ADVANCEMENTS
With the boom of e-commerce here, giants like Amazon, Flipkart are investing heavily in AI & ML to cut their delivery times as short as possible. Smart Warehousing and Figuring Out Shortest Possible Routes are new AI Ventures that are coming into the picture.
Today, transport management system software is the need of every logistics firm.
It's also easy for consignors to book trucks online from their smartphones at the least budget possible. With Fr8War, the process is extremely simple: –
1. Consignors need to register themselves.
2. Publish their load details.
3. Select the lowest Bidder.
4. The shipment is on the move.
IMPACT OF GST
Lastly, let's talk about GST. The main aim of GST was to integrate multiple layers of traditional taxation systems into a single one. With its implementation, the amount of paperwork has substantially reduced.
There's now a quick and streamlined movement of goods across borders, that has eventually benefitted the delivery timelines.
About Fr8War
Are you a consignor looking for hassle-free delivery of your load? Are you tired of calling different transporters to know the best price? Then fret not, Fr8War is here. Fr8War acts as a digital bidding platform to book freight trucks online.
The consignor needs to enter cargo details along with the ceiling price, and various transporters will bid for it from the other end. Transporters get to compete for the load, and consignors instantly get the best delivery price. With Fr8War, the process is exceptionally straightforward, POST. BID. RELAX. Adopt freight revolution, and download the Fr8War app now!!