Every truck driver hate being stand-in in unending and tedious toll booths. The Indian Government has taken one crucial measure to facilitate the whole toll payment process. Presenting FASTag to everyone. FASTag is a Radio Frequency Identification Technology (RFID) passive tag that was introduced in October 2017 by the Ministry of Road Transport and Highway. This allows drivers to directly make payments from their accounts without the need to stop their vehicle. This tag has been made compulsory on the windshield of every vehicle (whether private or commercial) from 1st December 2019 by the Indian government. (In case you don't have it installed on your vehicle, you will be charged double the rate of the toll plazas).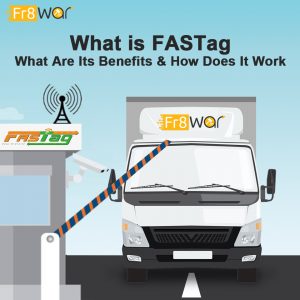 Book freight trucks online with Fr8War. 
FASTag can be purchased from major banks of India such as HDFC Bank, ICICI Bank, IDFC Bank & SBI Bank. 
BENEFITS OF FASTag?
The main aim of FASTag was to provide relief to drivers from long queues at the toll booths. Once these tags are out on the window; drivers don't need to carry any cash to toll plazas. This service saves a lot of time and facilitates the movement of vehicles on the road. Furthermore, it is also beneficial for lowering the fuel consumption and greenhouse emissions. 
How FASTag Works?
There is a reader who reads 

the FASTag

 card on the vehicle and process payment. This is normally put on the car windshield where the reader can properly scan it. After scanning, all the details will be sent to the bank for processing. 
Now the bank will request to National Electronic Toll Collection (NETC) Mapper. After validation, the Mapper will respond to details such as 

Tag Status

, 

VRN

, 

Vehicle Class

, etc. 
Then the debit request will be initiated to the 

NETC System

 after the bank come up with the appropriate fare amount. The account linked to the driver will be debited by the amount and an 

SMS

 will be sent to notify him. The response then will be informed to acquire host by NETC system, and acquire host will inform it to the respective toll plaza. 
FASTags can easily be recharged through the net banking system. You can also download FASTag mobile app and recharge from there. In case you haven't done your KYC, you won't be able to recharge the FASTag account. 
It should also be noted that one cannot use single FASTag for more than one vehicle. 
Just like FASTag, freight booking apps are also changing the course of logistics. If you are a consignor and tired of calling different transporters for the delivery of your load then download Fr8War App. This app acts as a digital bidding platform between consignors and transporters. 
The consignor needs to download the app and enter various cargo details along with the ceiling price, and various transporters will bid for it from the other end. So, adopt freight revolution, and download Fr8War app now. It's POST. BID. RELAX.