With the advancements in technology and digitization, changing the inner workings of the businesses. Logistics partners linked to the supply chain have come to expect a higher level of communication and faster access to valuable information. Supply chain visibility helps to create the big-picture to ensure that the business is running smoothly. 
The term supply chain visibility refers to the progress and strengthening of the supply chain by making information readily available to the stakeholders. It relates to knowing what is going on in your supply chain. Despite its simple meaning, it's not something that is easily achieved.
The numerous organizations have experienced unplanned supply chain disruptions and were caught off guard because of poor supply chain visibility.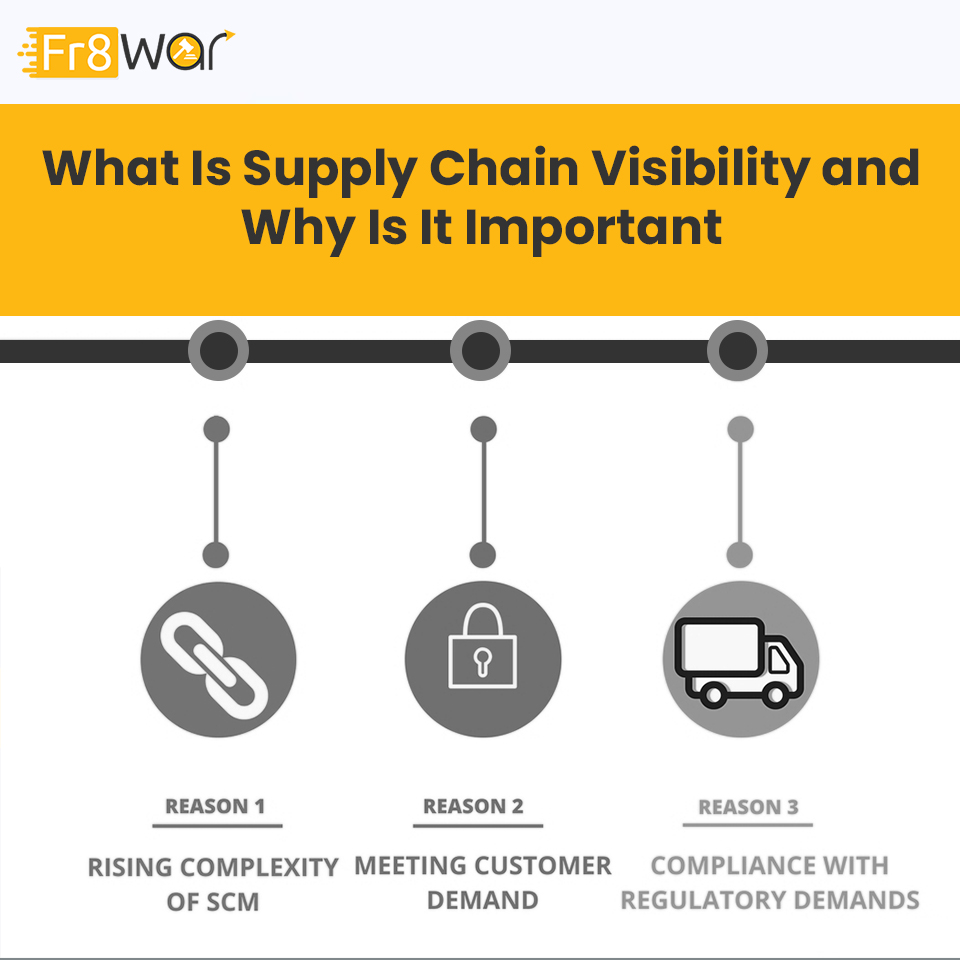 Over the last few years, we have watched trade slowly integrate with the digital world, due to the complex nature of merging the old processes with new technology. The demand for visibility through the supply chain is high but difficult to reach that standard. 
Before we delve into the future outlook of effective supply chain visibility, let's learn about what exactly is "visibility". Total visibility in the supply chain helps parties to access the pertinent data and information anytime. But attaining visibility in the entire supply chain is a challenging task. 
Online truck booking apps are also revolutionizing in the logistics sector. Book freight trucks online with Fr8War.
Top reasons why supply chain visibility is important:
The predominant characteristic of a high visibility supply chain immediately flags if something goes wrong. Thanks to this, there will be sufficient time to resolve the issue or make alternative arrangements.
Meeting customer demands
: 
The customers of today have more choices than before and expect shorter delivery cycles. They are now less tolerant of mistakes and late deliveries. So, to meet such demands, firms need a more effective supply chain system. A system that delivers a better view of the supply chain.
Reducing complexities of supply chain management:
Having a good supply chain visibility is indispensable to accomplish SCM. Even though your firm may not deal with the global demand and supply; there is a good chance of supply chain to be widespread and complex. In this case, the best solution is to increase supply chain visibility. It will be capable of managing big data or focuses on transport management.
Compliance with regulatory demands: 
Supply chain visibility is useful for organizations who function on a global scale. Its tools help firms to trace the continuously changing landscape of government regulations. Additionally, companies can better predict and respond to new regulations in terms of transportation used.
Create a model of the organization's supply chain and then use it to increase supply chain visibility. It helps to determine the best supply chain decisions.
If you are among the logistics community waiting to move toward a digital logistics world. Fr8War is an efficient and dynamic online portal where transporters and consumers can interact. The two parties can transact their business in total privacy, which is ensured by the portal's security; Download Fr8War App from Playstore now and Book trucks online.