Here are two fascinating facts: there are approximately 10 million independent trucks in India and second, our country spends 14% of its GDP on transportation and logistics every year. The size and scope of the logistics sector have constantly been expanding for the last few years. New ventures are entering into this domain and sooner or later, your commodity-based business will require freight services too.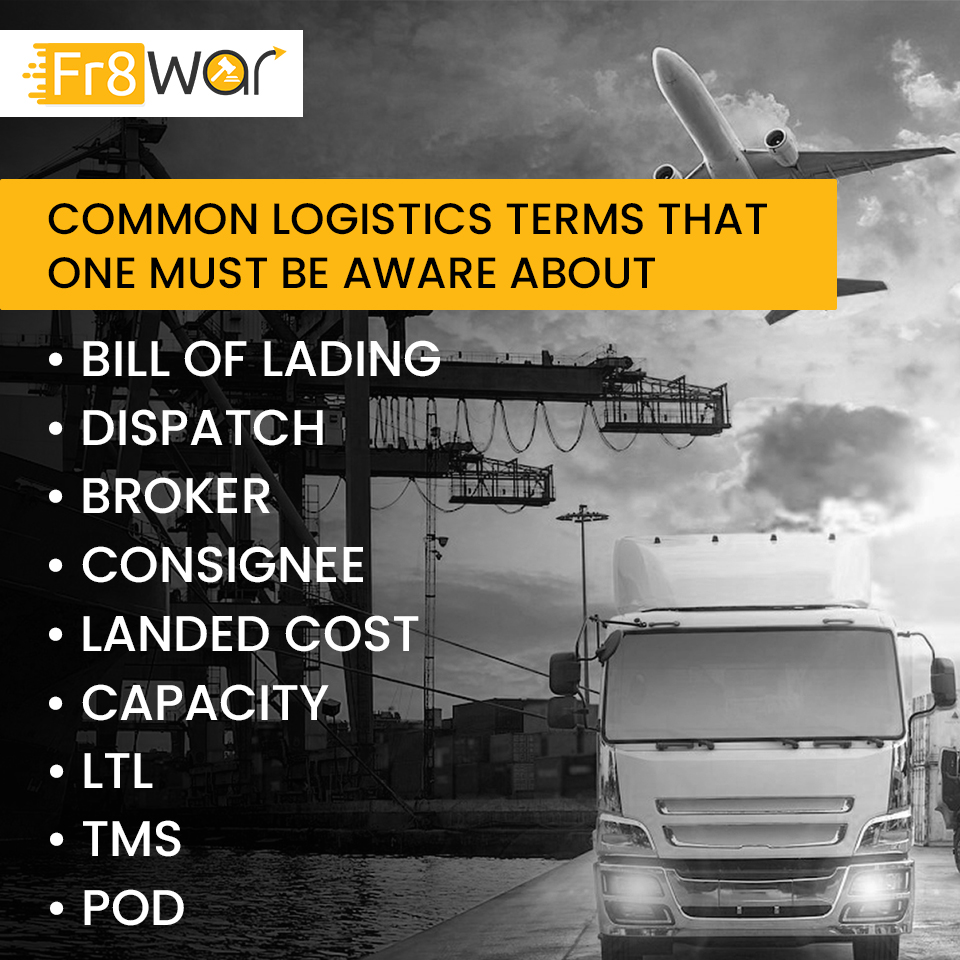 Book freight trucks online with Fr8War.
If you're an outsider to the logistics industry, there are many terms and acronyms used in here that can baffle any sane being. It is important for you to be aware of at least some (if not all) terms in the logistics sector. Having proper knowledge of these logistics terms will help you deal better with people who are already in the industry.
Here are some logistics terms and acronyms that one should be aware about: –

Bill of Lading
Bill of Lading is a printed official document on which cost is mentioned for the goods which are yet to be delivered. Bill of Lading keeps the record of the traded goods that have been received on-board. It acts as an agreement between the consignor and transportation company for the transportation of goods. There are many types of Bill of Lading: –
Received for shipment Bill of Lading
A clean Bill of Lading
Through Bill of Lading
Dirty Bill of Lading
Dispatch
Movement of freight from one place to another is known as dispatching.

Broker
A broker acts as an intermediary between a freight shipper and a carrier. An example of one such modern broker is Fr8War. It provides a platform to consignors where they can post their shipment details along with the upper-limit price. Various transporters will bid for that price from the other end, and the lowest one will get the deal.

Consignee
The consignee can be the freight owner or destination location of a shipment.

Landed Cost
Landed cost means the final cost of products along with all the logistics costs needed to get the goods delivered to the final location.

Capacity
Capacity is the ability of a carrier to transport a particular load. The capacity of a freight vehicle may change due to weather, demand-cycles, or fuel costs.

LTL
LTL means Less than load.
It means the transportation of goods that does not require a full space of the truckload.

TMS
TMS stands for Transportation Management System.
A Transportation Management System helps to configure all the important data points such as rates and route options so that managers can make the best decision about freight delivery. To learn more about TMS, you can read this article.

POD
POD stands for Proof of Delivery.
This document acts as proof for the shipment that has been received at the destination.

Looking for ways to do hassle-free delivery of your load? Are you exhausted from calling different freight transporters? No more haggling over phones with transporters because Fr8War is here!
Fr8War acts as a digital bidding platform to book freight trucks online. The consignor needs to enter cargo details along with the ceiling price, and various transporters will bid for it from the other end. Transporters get to compete for the load, and consignors instantly get the best delivery price.
The process is exceptionally straightforward, POST. BID. RELAX. Adopt freight revolution, and download the Fr8War app now!!